Snap My Commute Back for November
---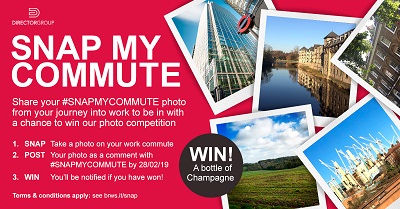 By popular demand our photographic competition, Snap My Commute, is back to brighten up November! With a closing date of Friday 29th November, our competition winner will receive a bottle of champagne in time for Christmas.
We want to see photographs of your commute to work. We don't care how you get there, we just want you to take a few minutes, from a safe position, and take a photograph of what you see – mountains, fields, railway tracks or images from the top of a bus!
The original idea came from the joint founder of Director Group, David Wright, who was taking the strain out of his regular commute by trying to take a photograph of the Battersea Power Station Development. He had made several attempts, over a number of weeks to capture the site with its impressive coronet of cranes but was more often than not outdone by a passing train! When he finally managed to get a clear shot and shared it online 200,000 LinkedIn members took the trouble to get in touch. And so the competition was born …
Last years winners were clear favorites with the judges for very obvious reasons. So now its your turn – take a snap, post your photo as a 'comment' on LinkedIn with #SNAPMYCOMMUTE and if you are the lucky winner we will be in touch.
For full competition terms and conditions follow link.