Competition 'Snap My Commute' Launches
---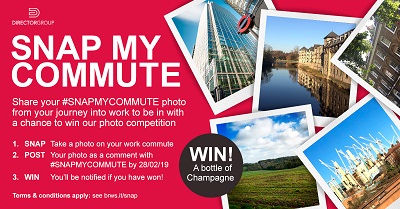 David Wright was delighted to announce today on LinkedIn that his much awaited competition 'Snap My commute' has finally taken off.
The idea came from taking a photograph of the Battersea Power Station Development on his way into London. David, a regular commuter, had made previous attempts to take a photograph of the construction site with its impressive coronet of cranes but had never achieved a clear shot.
Sharing the image online, the idea struck him that a competition to brighten people's daily 'commute' would be worthy of anyone's time. With almost 200,000 comments and messages stimulated by this post it seems many people shared his viewpoint.
For that reason, Director Group, have sponsored the competition with a bottle of champagne awarded to the best UK entry and another for an overseas entry. We hope to run the competition on a monthly basis and look forward to seeing your photographs.
If you would like to take part in this competition, simply comment on David's LinkedIn competition post with a photo of your commute, along with the hashtag #SNAPMYCOMMUTE .